Fotis Mini – 4 Juni 2011
Owl City
Owl City is an American electronic/synthpop musical project by singer-songwriter and multi-instrumentalist Adam Young, formed in 2007 in Owatonna, Minnesota. Young created the project while experimenting with music in his parents' basement. Owl City developed a following on Myspace in the late 2000s before signing with Universal Republic in 2008.
After two independent albums, Owl City gained mainstream popularity with the 2009 major label debut album Ocean Eyes, which spawned the hit triple platinum single "Fireflies" and the lesser hit "Vanilla Twilight". The album was certified Platinum in the United States in April 2010.
Early years (2007–2009)
Suffering from insomnia while working loading Coca-Cola trucks in his hometown, Owatonna, MN, Young turned to composing music. He began receiving attention for songs he had uploaded to MySpace, the "viral popularity" of which would later result in his signing to a major label. In 2007, Owl City released an EP titled Of June, followed by the 2008 release of the album Maybe I'm Dreaming. Of June reached #20 on the Billboard Electronic Albums chart, and Maybe I'm Dreaming peaked on the same chart at #16.
Ocean Eyes (2009–2010)
Owl City's third album, Ocean Eyes, was released on iTunes on July 14, 2009, with the physical release following on July 28, 2009. The album debuted at #27 on the Billboard 200. Owl City has released three official singles from this album: "Umbrella Beach", "Vanilla Twilight" and "Fireflies". "Fireflies" topped the US and Canadian charts and became the most-downloaded song on iTunes in the US. Ocean Eyes reached the top ten on the US album charts, topped the US electronic charts, and also reached Amazon MP3's top 10 most downloaded album list. By December 2009, it was certified Gold in the United States. On January 24, 2010, Owl City reached the number 1 spot in the UK Top 40 Singles chart with "Fireflies". On January 2, 2011, it was revealed "Fireflies" was the 20th most downloaded song of all time in the UK.
Adam Young suggested in a 2009 interview with The New York Times that Ocean Eyes is perhaps the "next chapter" after American band The Postal Service:
[The Postal Service] released a record in 2003, and that was it. There was really nothing to compare it to until some one else came along and wrote the next chapter. Maybe that's this record. Maybe that's this band.

—Adam Young, The New York Times, "From Mom's Basement to the Top of the Chart"
Relient K vocalist Matt Thiessen has toured and collaborated with Owl City on several tracks, including "Fireflies", where Matt can be heard providing the backup vocals. Young also produced Relient K's song "Terminals".
"Fireflies" was released as a free download on the iPod/iPhone game Tap Tap Revenge 3 by Tapulous. Prior to the July 14, 2009 internet release of Ocean Eyes, and the "Fireflies" single, Steve Hoover was hired as a director for a music video for "Fireflies". The video was to have had an exclusive premiere on MySpace, but had been leaked onto YouTube and Dailymotion hours earlier. "Fireflies" became a big sleeper hit, topping the Billboard Hot 100 in the United States for the week ending November 7, 2009.
Owl City is featured on Soundtrack 90210 with a song titled "Sunburn", which was released on October 13, 2009. Owl City has toured with The Scene Aesthetic, Lights, John Mayer, Maroon 5 and Brooke Waggoner. He was also guest featured in the soundtrack to Tim Burton's Alice in Wonderland with a song entitled "The Technicolor Phase" that had already been featured in his debut album.
All Things Bright and Beautiful (2011–present)
Young has revealed a new musical project known as Sky Sailing, moving away from his usual electronica genre of music and introducing acoustic guitar and piano accompaniments into his work. The unrefined tracks were recorded in the summer of 2007 before he began making music as Owl City. His first album under this new project is entitled An Airplane Carried Me to Bed, and was released July 13, 2010 via iTunes.
In May, 2010, Adam Young collaborated with high-profile British electronic composer, producer, musician, and songwriter Nick Bracegirdle. Under his Chicane alias, Bracegirdle released the single "Middledistancerunner" on 1 August 2010 featuring Adam Young on vocals. This is the first single from the fourth Chicane album Giants. He also worked with famed Dutch producer Armin van Buuren, appearing on a track called 'Youtopia' from the forthcoming van Buuren album Mirage on September 10, 2010.
On September 21, 2010 "To the Sky" was officially released via iTunes on the soundtrack for Legend of the Guardians: The Owls of Ga'hoole. Young released a cover version of the praise and worship song "In Christ Alone" as a streaming mp3 on his website, on October 25, 2010. On November 13, 2010, a new album was also released for one of his other musical projects, "Windsor Airlift", called "Flight" on iTunes. On November 23, 2010, a new Christmas single called "Peppermint Winter" was released. A preview had been released the previous week on Facebook.
On February 14th, 2011, it was announced that All Things Bright and Beautiful would be released on May 17, although that date was subsequently pushed back to June 14. Young released a cover/reply song to Taylor Swift's "Enchanted". On March 1st, he announced via his website the All Things Bright and Beautiful Tour featuring recording artist Mat Kearney and Unwed Sailor. All Things Bright and Beautiful presale and tour ticket presale started March 22.
On March 22, 2011, the debut single off the album called Alligator Sky was released on iTunes. Two versions have been released so far, with a version featuring only Adam Young on vocals and another featuring Young as well as guest rapper Shawn Chrystopher, and each version having different lyrics in the verses. Adam Young also released a song "Lonely Lullaby," available through his website. Previews of 3 songs (Honey and the Bee, Dreams Don't Turn to Dust, and Deer in the Headlights) could be heard in a making-of video posted on the official website. People were also able to pre-order his album All Things Bright and Beautiful on iTunes starting then.
On April 6, 2011, Adam Young released a statement on his website, along with lengthy previews of four of his songs (Dreams Don't Turn to Dust, Alligator Sky Ft. Shawn Chrystopher, Galaxies, and Deer in the Headlights), that the release date for All Things Bright and Beautiful would be pushed back to June 14. His song 'The Yacht Club' features electropop singer Lights, who opened for him during his 2010 tour.
On May 6, 2011, Owl City released the music video for "Alligator Sky". Adam talked about the concept, in a making-of video, "So the concept is basically about these two guys who are leaving Earth. Rather than it being this very dark post-apocalyptic vibe, it's very optimistic, and so it's like people are excited to leave earth."
On May 16, Adam Young released a build up of his new song 'Deer in the Headlights' each day a new track part was added. On May 20, Almost all of All Things Bright and Beautiful leaked onto the internet, "How I Became The Sea" and "Shy Violet" were not among the leaked tracks. On May 23, 'Deer in the Headlights' was released on iTunes.
Musical styles and influences
Owl City's music is described as indietronica and synthpop and is often described as belonging under the broad "alternative music" label. Young has stated that he is inspired by disco and European electronic music, as well as instrumental genres such as drone, ambient, and post-rock. He cites his biggest influences as Johnathon Ford of Unwed Sailor and Thomas Newman. Young also incorporates a large amount of his Christian faith into his music, though usually in a subtle way because he wants people of all beliefs to enjoy his music.
Owl City, a child of the late 80s/early 90s era, is also influenced by 1980s electronic/New Wave music and classic video game music. Owl City also has been compared to The Postal Service for his combination of fuzzy synths, ironic lyrics and use of female guest singers
Discography
Album
Maybe I'm Dreaming (2008)
Ocean Eyes (2009)
All Things Bright and Beautiful (2011)
Singles
"Fireflies"
"Vanilla Twilight"
"Umbrella Beach"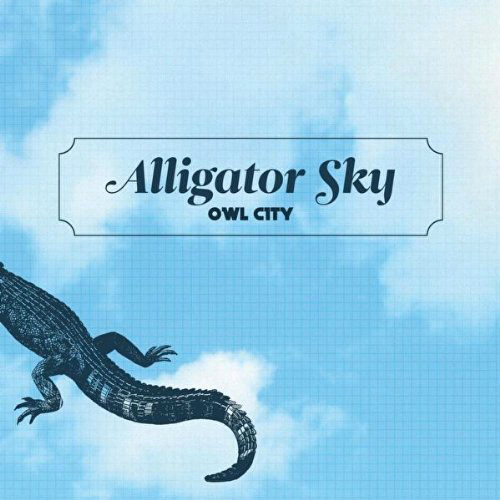 "Alligator Sky"
source: wikipedia.org